The Arts Summer Season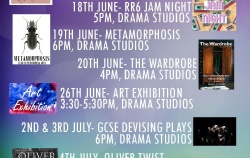 Please join us at school between the 14th June and the 19th July for a summer of music, performance, drama and dance. Some events are invitation only or ticketed so please check the event details on the school calendar.
The Arts Summer Season at Ricards Lodge and RR6 begins with the Summer Dance Showcase. The event takes place on Thursday 14th June and showcases all of student's work that they have been rehearsing throughout the past term. The talent is from a wide variety of disciplines, from Hip Hop to classical ballet. Tickets are available through Parentmail from Wednesday 23rd May until Tuesday 12th June.
The RR6 Jam night follows behind on the 18th June, with Year 12 Music taking us through the decades and sharing their solo and group performances (please note this is an assessment and will be by invitation only).
Year 13 Performing Arts will also have a chance to shine in their final performance of Metamorphosis on the 19th June, exploring Steven Berkoff's adaptation and bringing the weird and wonderful vision to stage (please note this is an assessment and will be by invitation only).
The Wardrobe will star Year 10 Performing Arts students in their Key Stage 4 debut as they piece together scenes from Sam Holcroft's play on the 20th June (please note this is an assessment and will be by invitation only).
Our annual Art Exhibition will take place on Tuesday 26th June from 3:30-5:30pm; exhibits include GCSE Art, GCSE Art Textiles, A Level Art and Design and BTEC Photography work from Key Stage 4 and 5 Students (this event is open to all).
Year 7 will then take to the stage in the Drama Studios performing an abridged version of the classic 'Oliver Twist', Year 7 Drama Club have been working on this for a long time and are very excited to perform to friends and family (please note this is by invitation only).
The GCSE Drama and Drama Design students will then be performing their Devised plays, exploring different stimuli they have come together to create their own stories (please note this is an assessment and will be by invitation only).
Our final event of the season will be our yearly Summer Sounds Festival on the 19th July. This event is a fantastic afternoon for the whole family, with stalls and live music starting at 4pm. The students will be performing solos, as part of own bands and the infamous staff band will also make their comeback! (This event is ticketed; wristbands are available to buy on the gate for a donation).
We really hope you can join us for some of the events this summer and as always thank you all for your support in your child's participation.
Photos from previous events are available on our Youtube channel and in the gallery.