Year 7 Netball Match Report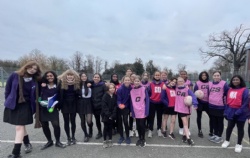 On the 21st January, Ricards Lodge netball teams visited St Cecilia's school for a netball tournament. Below are match reports from Izzie, Year 7 and umpire Gracie, Year 9.
Player's Match Report by Izzie, Year 7
Last Friday after school we played a friendly netball match against St Cecilia's. We both had two teams, an A team and a B team. We started off by warming up, we stretched and did some pulse raisers and then a couple of games.
We then got ready for our first match. It was the Ricards A team vs the St Cecilia's A team and B teams vs each other. Both teams played their hardest but unfortunately Ricards lost the match. A and B team won for St Cecilias.
We shook hands, switched positions, and then we played the other team (Ricards A team vs St Cecilia's B team). Again, St Cecilia's won, but that didn't matter, our team spirit was great!
Thank you so much to our year 9 umpires and the teachers that arranged this for us!
Umpire Match Report by Gracie, Year 9
On Friday 21st January, Ricards played a friendly match against St Cecilia's. Both of us had two teams of 7 players; A and B team. When St Cecilia's arrived, the coaches started off with warm-ups and team talks then got into the pulse raising fitness sections, then the matches started!
Both us and St Cecilia's played two games each starting with Ricards A team vs St Cecilia's A team then Ricards B team vs St Cecilia's B team! Everyone played their best and had the time of their lives.
Congratulations to St Cecilia's for winning, and they definitely deserved to with the amount of greatness in both of their teams. Thank you to everyone who participated, and you could tell the team spirit within everyone was great. I was an umpire and could tell that everyone wanted it as much as each other. Well done both schools and congratulations again to St Cecilia's for their amazing win!