UK Maths 25th Anniversary Event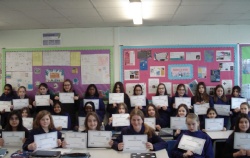 The UK maths Trust celebrated 25 years of maths challenge events by holding a 25th anniversary challenge for year 8 and year 7 students.
Over 100 students from year 7 and 8 took part in this online event by answering 25 multiple choice questions in 45 minutes. They have all been awarded a Certificate of Participation by the Trust. Congratulations to all the participants!
'I thought it was going to be really hard, but it was better than I thought'.

- Zaynab, Year 8