Results day success at RR6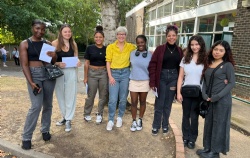 Students were celebratory as they arrived earlier today to collect their A Level and Level 3 BTEC results. Many had eagerly logged on to UCAS this morning at 8:15 am to confirm their university places and higher apprenticeships.
Among the smiles and high-fives were some stories of individual success outlined below;
"I am really happy with my results, and I am very excited to go to Oxford University. A big thank you to all the staff at Ricards Lodge and RR6". Mia, University of Oxford, English Language and Literature.
"I am really happy and proud of myself, my plan is to go on to work in the medicine/health industry." Khobeha, King's College London, Pharmacy.
"I am shocked and impressed at how good my results are!" Lakshini, City University, Maths & Finance.
"Wow... just wow" Priya, higher degree apprenticeship in software engineering at the Ministry of Defence.
"I was up early refreshing my UCAS page, and I was delighted to get into my first choice course and accommodation!" Zoe, University of Chichester, Physiotherapy.
"Super excited to be following in Mrs Jerrard's footsteps by going to Exeter" Jazziya, University of Exeter, Law.
"Languages are kind of my thing, so I am delighted to be studying History and German next year at my first choice university" Aggie, The University of Sheffield, History & German.