Science Workshops at King's College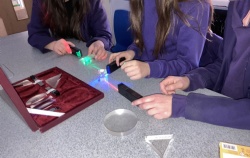 Throughout this term, King's College School in Wimbledon hosted our students to explore a series of Science workshops. The workshops have really inspired creativity and imagination. Our enthusiastic and astute Year 8 students thoroughly impressed the King's College staff and students throughout their eight-week programme.
Our students were able to sink their teeth into a vast array of experiments, many of which have helped shape our understanding of Science as it is today. Our students were able to; create their own speakers, replicate the model for the first device able to capture images, design and create their own rockets, test the PH of a range of acids and alkalis, along with many other exciting, hands-on activities. A particular highlight for the students was the final workshop, where they had to compete against each other to effectively cost, design and build a bridge capable of holding as much weight as possible. It's very clear that there are some future engineers within the group.