Admissions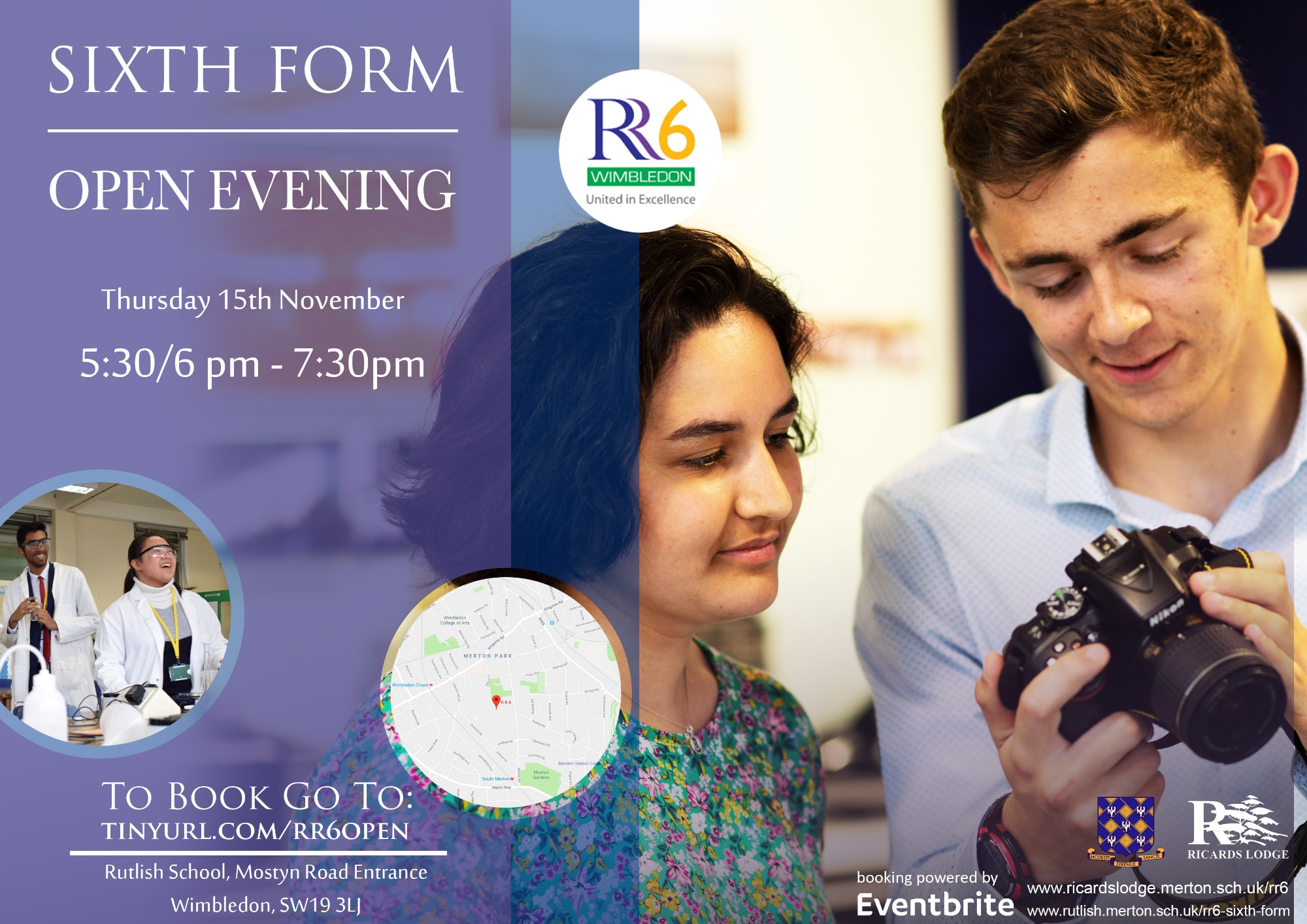 RR6 Open Evening is for Year 12 entrance in September 2019. Tickets will be limited and will only be available via our online booking page. Once booked you will receive an e-ticket which you can either print or show on your phone on arrival.
Hear about the application process and entry requirements and discuss the courses you are interested in with the relevant subject leaders and staff. Current RR6 students and our Careers Advisors will also be present to share advice and guidance.
Please note that only one ticket is required per family, parent(s) and carer(s) are not required to register. This year's event takes place at the RR6 building on the Rutlish site, SW19 3LJ.
The 2019 prospectus is now live - click here to access
To apply to RR6, applications must be made via the relevant site:
Please note that completing the online application form takes approximately half an hour and you will need contact information for yourself and parents/carers to hand.
All external applicants must also download and fully complete the external application form and ask their current school to complete the reference pages. This document can be downloaded from the link at the bottom of this page. These must then both be posted to the relevant school site by the application deadline.
Deadline for RR6 applications for 2019 entry: Friday 14th December 2018.
Any applications after that date will join our waiting list
The interview process will then take place during January and February 2019 with the majority of interviews taking place on Saturdays, and all applications to arts subjects include an additional interview or audition on Thursday 17th January.
Please note: students whose predicted grades do not meet our entry requirements will not be offered an interview and will be notified of this in writing.
Offers of places for successful applicants are sent out during March 2019 and all successful applicants who accept their offer, and hold RR6 as their first choice for September 2019, will be expected to then attend both the Induction Days on Monday 8th and Tuesday 9th July 2019
Ricards Lodge site (Female Applicants):
Mrs A Chambers
RR6 Administrator
Ricards Lodge
Lake Road
SW19 7HB
rr6administrator@ricardslodge.merton.sch.uk
Rutlish Site (Male Applicants):
Mrs A Cadman
RR6 Administrator
Rutlish School
Watery Lane
SW20 9AD
ashleigh.cadman@rutlish.merton.sch.uk