Demons are a ghoul's best friend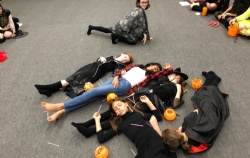 With Halloween just around the corner, students in 7S have been busy working on their drama assessment, this time with a scary theme.
Students have explored how to build tension in a scene and use still images effectively. They have also been learning how to use body language, gesture and proxemics in drama to convey a character and a story. In groups, they have written their own scary story and brought it to life through these drama techniques and some brilliant costumes! Well done to you all.
Miss Barron