Remembrance Day Poster Winner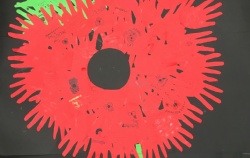 What does Remembrance Day mean to you?
Representatives from our student council decided to give Remembrance Day a higher profile this year as we are celebrating the centenary of the end of World War One by organising a poster campaign. Students had two weeks to design a poster and they could be designed individually or as part of a group.
I am delighted that 7HW decided to work as a team and designed this beautiful poppy made from the hand prints of all the students in the tutor group.
Congratulations to 7HW.