Sustainable transport field trip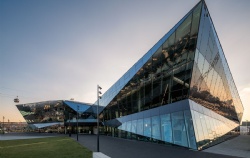 On Thursday 16th and Wednesday 23rd January Year 11 geography students carried out their second round of fieldwork; this time it was the human element. The area of study was sustainable transport on the Greenwich Peninsula.
With climate change and population growth becoming even greater issues of concern globally, it is important to look at what we are doing in London to ensure that we remain as sustainable as possible. Students carried out a range of fieldwork techniques, including questionnaires and surveys.
As well as this, students travelled over the Thames on the Emirates Air Line cable car to visit the Crystal; an exhibition showcasing all that can be done to make cities sustainable into the 21st Century and beyond.
The students thoroughly enjoyed the day, despite the cold weather and particularly loved the fantastic views of London from the cable car. They came back full of confidence for their unit 3 exam.