Time for Tea - Celebrating Achievement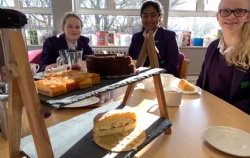 As a celebration of their outstanding achievement on the 17th January a group of students from Year seven and eight were invited to enjoy afternoon tea with the Headteacher.
The students had all achieved 'Purple Badge' status during the autumn term. The students drank hot chocolate, enjoyed Victoria sponge cake and discussed a wide range of topics from their top tips on attaining achievement points to the bumpy roads in rural India, where one of our students used to live before joining us.
The students were also keen to ask Mrs Jerrard on how she became Headteacher and had many questions on the teaching profession. It was a delightful event and we very much look forward to hosting the next tea with our top achieving key stage 4 students.