Santa Run 2018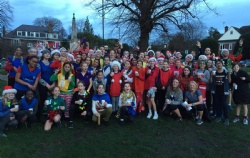 Eighty students from across Year 7 to Year 11 took part in our annual 'Santa Run'. The event raised over £40 for the charity, Cancer Research.
Twenty staff ran alongside and supported the runners in addition to student Sports Council volunteers marshalling the route through Wimbledon Village to Wimbledon Common.
The event was a huge success despite the chilly weather. Spirits were high throughout, with carols and Christmas songs being sung all the way around the route.
A special thank you to the PE department and Mrs Blake for making everything run like clockwork.