RR6 Art Exhibition 8th & 9th March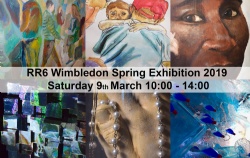 All parents and carers are warmly welcomed to an exhibition of year 13 Art work at the Norman Plastow Gallery in Wimbledon Village.
The exhibition will take place on Friday 8th March from 7-9pm and on Saturday the 9th March from 10am -2pm.
This will be the first time these students have shown their work outside of the school setting and it promises to be a very exciting occasion in a fantastic space.
The Art Department