Rich Dance 2019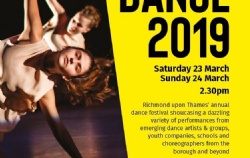 Ricards Dance Collective have been selected to perform at RichDance 2019, as part of a programme which includes performances from Rambert School of Ballet and Contemporary Dance, English National Ballet Youth Company, BalletBoyz Youth Company and The Place.
RichDance 2019 will be held at The Hammond Theatre at Hampton School, Hanworth Road, Hampton, TW12 3HD on Saturday 23 March at 2.30pm.
Tickets are now on sale via the Hammond Theatre website.