LYG 2019 - Dance Success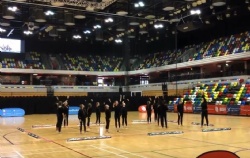 On Tuesday 12th March, both dance teams within the newly expanded Ricards Dance Collective travelled to Copper Box Arena to represent Merton for the KS3 and KS4 London final for Dance.
Both teams demonstrated a high level of support and kindness for each other, as well as the acts from other schools. The junior group, whose piece was an acro-lyrical dance focused on the theme of the #MeToo movement, came 10th overall in London. This is an incredible achievement as it was their first time performing together as a group. The senior group, who collaborated on a street styles piece centred around their feelings towards knife crime, came 7th overall in London. Below is some of the judges' feedback about both pieces, as well as a brief explanation of the concept.
---
KS4/ mixed: Lives Not Knives
Suicide and homicide are two of the biggest killers of men under 45. After speaking to young people, we found that so many young men in London suffer from mental health as a result of the rise in knife crime and youth violence. This piece aims to raise awareness for these two social issues and send a positive message of hope and compassion, as well as signposting charity organisations that can support those affected by the themes presented in the dance. The choreography fuses ideas from hip hop, krump, breaking and contemporary and has been mainly initiated by the performers themselves.
"Strong performers and intensity throughout"
"Very powerful piece and message"
"I hope any young male in here can take something from this piece and realise that knife crime is not a joke and it's not cool"
"The raw grime feel highlights the mood and concept"
---
KS3: #Me Too
"And when that new day finally dawns, it will be because of a lot of magnificent women, many of whom are right here in this room tonight, and some pretty phenomenal men, fighting hard to make sure that they become the leaders who take us to the time when nobody ever has to say, 'Me too' again."- Oprah Winfrey 2018
Our students were inspired by the #MeToo movement to create choreography drawing on techniques from contemporary and jazz dance. They hope to continue to raise awareness for women's rights and highlight the importance of unity and solidarity in combating this emotive social issue.
"Strong subject; strong performance"
"Great use of stage"
"Powerful theme and good teamwork"
"I felt the passion and feeling from the dancers"
I am also pleased to say that we have been selected again to perform at RichDance 2019 at the Hammond Theatre on Saturday with the KS4 piece: Lives Not Knives.
Ms. J Barron
Tickets available from the Hammond Theatre Website.
Read a review of the Dance final (where we got a mention) here.
" Highlights of the day included a hard-hitting performance from Ricards Lodge High School (Merton) which called for young people to prioritise Lives Not Knives"