Speaking Out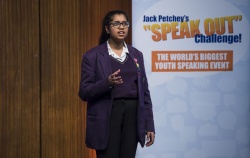 A superb "Speak Out" regional final was hosted by Ursuline High School on 19th March. Nethuni, in Year 10, gave a brilliant and impassioned speech about body image and control.
Jack Petchey's "Speak Out" Challenge is a programme run by the Speakers Trust and funded by the Jack Petchey Foundation. The foundation was set up by Sir Jack Petchey to inspire and motivate young people across London and Essex to do their best and reach their full potential.
The "Speak Out" Challenge is a speechmaking competition in which students are asked to create and perform a speech on a topic of their choice, without using any notes for the performance. The challenge aims to give young people (of all ages and levels) the skills, confidence and desire to speak in public. 19,000 students across the country participated this year.
The ability to speak publicly is an invaluable skill for communicating effectively and the participants will be able to apply their experiences across and beyond the school curriculum. I believe it is a skill and an experience which they will carry with them for the rest of their lives.
At Ricards Lodge High School, sixty students in Year ten were selected and invited to take part in the "Speak Out" Challenge workshops. With the assistance of the workshop coordinator, AC Gaskell, the selected students spent a day crafting their speeches and showed great enthusiasm for the challenge. Although there were some very shy and nervous students at the start of the day, everyone who took part achieved the feat of speaking publicly to an audience.
The best five speeches from the workshops were then performed in our assembly finals. The competitors were Nethuni D, Natalie O, Anosh K, Naina K and Amtul NK.
It was a strong competition but a winner had to be decided. Nethuni's speech, "Parasite," on how body image can become a parasite on self-confidence was the winner, and Naina's speech, "Attitudes to Girls," on how girls around the world are treated unfairly was the runner up. Nethuni's speech was then put forward to the Merton regional finals.
It was a very tough decision for the judges as all the speeches were of a very high quality. Nethuni gave a fantastic speech and Julia Waters, Headteacher at Ursuline High School, personally commented on how well Nethuni performed on the evening.
Thank you and well done to all the contestants, along with everyone who was involved.
Mr Scandrett
English