Ricards Lodge gets Gold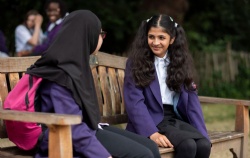 We are delighted that in March Ricards Lodge was awarded the gold standard for its Spiritual, Moral, Social and Cultural (known as SMSC) education by the Citizenship Foundation.
The school was visited by an assessor, Sian Rowland on Friday 15th March. Sian visited a number of lessons and had the opportunity to talk to students from the SMSC working group, POP Ambassadors, members of the LGBTQ+ group, the newly appointed Well Being Ambassadors, our Digital leaders and students who had chaired our Model United Nations Conference and attended an Islamophobia Conference.
The SMSC Quality Mark has been developed by a working group comprised of educational consultants, staff from Citizenship Foundation, Headteachers and teachers. It has been piloted by a range of schools who found the experience very useful.
The aim of the award is to recognise how Ricards empowers young people to prepare them for an ever-changing world and helps them to maintain our school values of trust, equality, resilience and aspiration as they move to take their places in society. We want Ricards Lodge students to be able to make a positive difference to the society in which they live – locally, nationally and globally.
Due to our 'exceptional provision of SMSC', we have been invited by Young Citizens, who manage the Quality Mark, to become a SMSC Beacon School in order to share our journey with schools in the local area.
The report highlights many strengths of the school's SMSC development;
'Genuine pupil voice is a real strength and the students have meaningful input at every level of the school. The wide variety of groups including the LGBTQ+ group, the Islamophobia group, Model United Nations, Digital leaders, POP group, Well Being ambassadors, Oxfam ambassadors and SMSC group all contribute to the academic and pastoral wellbeing of students and it was heartening to hear the members talk about inclusivity and being an ally. Not all members of the Islamophobia group are Muslims, for example.

The emphasis on an all-round education also contributes to the strong sense of SMSC in the school. Arts are embedded and important and offer a way for students to express themselves. Staff wellbeing is also well-thought out with opportunities for returning parents to job share.'
The award lasts for 3 years when we have the opportunity to reapply.
S Sawyerr
Assistant Headteacher and Lead for SMSC