Ricards students meet the Duke of Wellington!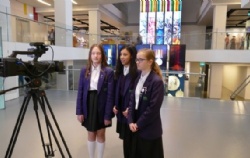 Ricards Lodge has been invited to take part in a review of arts education and contribute to a film which is being made in conjunction with the National Army Museum and Culture Street, a multimedia arts organisation.
Culture Street is a one-stop destination to introduce young people to contemporary artists, writers, curators and performers and their amazing work.
To start the project Keith Alexander, a filmmaker from Culture Street came into school to run a workshop for a group of students in Year 8. The second part of the project took place on Friday 3rd May filming at the National Army Museum and on location at Hyde Park Corner by the statue of the Duke of Wellington.
The students had the opportunity to view part of the National Army's museums private collected a piece called The Grenadier by Joseph Edgar Boehm. Sir Joseph Edgar Boehm was a medallist and sculptor, best known for the Jubilee head of Queen Victoria on coinage and the statue of the Duke of Wellington at Hyde Park Corner. His body of work is substantial and he exhibited 123 works at the Royal Academy, from 1862 to his death in 1890.
Students commented on their experience of the film making process;
"I have learnt about why the statue was made and how significant it is." Faith
"I enjoyed making the film very much and would definitely do it again!" Monet
"I learnt that Wellington boots are named after the boots that the Duke of Wellington wore" Ruby
"I really enjoyed making this film because I learnt a lot more about Wellington and my confidence grew as at first I was really nervous but I felt a lot more comfortable with everyone helping me" Natalie
The film will be available on Culture Streets website later this year.
Further photos are available in the gallery.