Sports Awards evening at the Wimbledon Club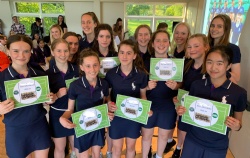 We are truly delighted that on Friday 10th May Ricards Lodge hosted its first ever Sports Awards evening at The Wimbledon Club.
Students were celebrated not only for their sporting prowess but also for their contribution to PE and their implementation of our core school values of trust, equality, resilience and aspiration. The evening was warm and sunny and with the beautifully Lake room laid provided panoramic views of the grass tennis courts.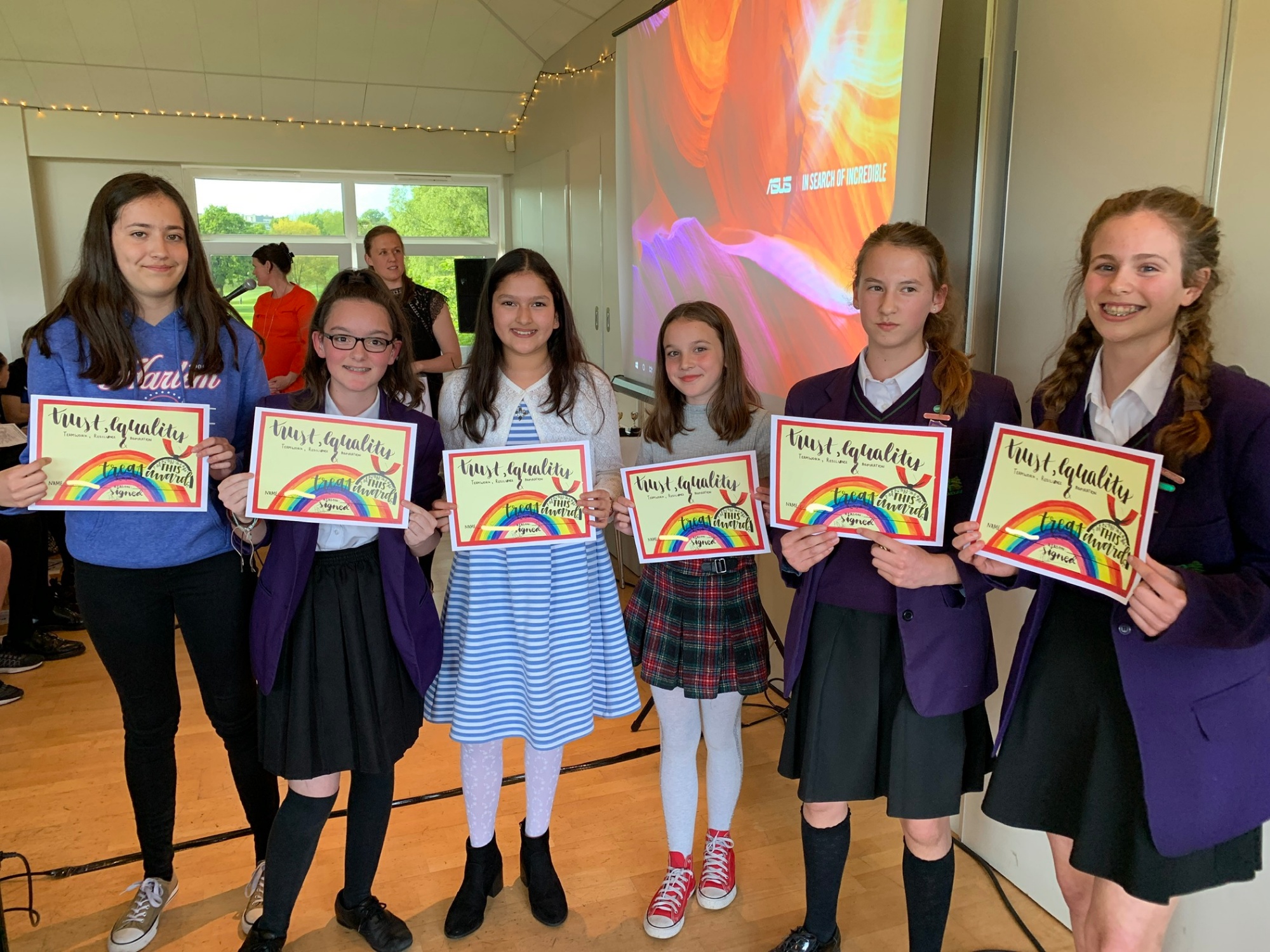 The Wimbledon Club went above and beyond to support on the night and in the build-up to the event. We are very grateful for the club allowing us to use these prestigious facilities and providing us with an inspiring Great Britain and Olympic Hockey player, Jack Waller, who delivered the keynote speech.
The evening started off with students receiving awards for demonstrating our school values in their PE lessons. They received pin badges for and a vibrant certificate designed by Darcy in Year 8.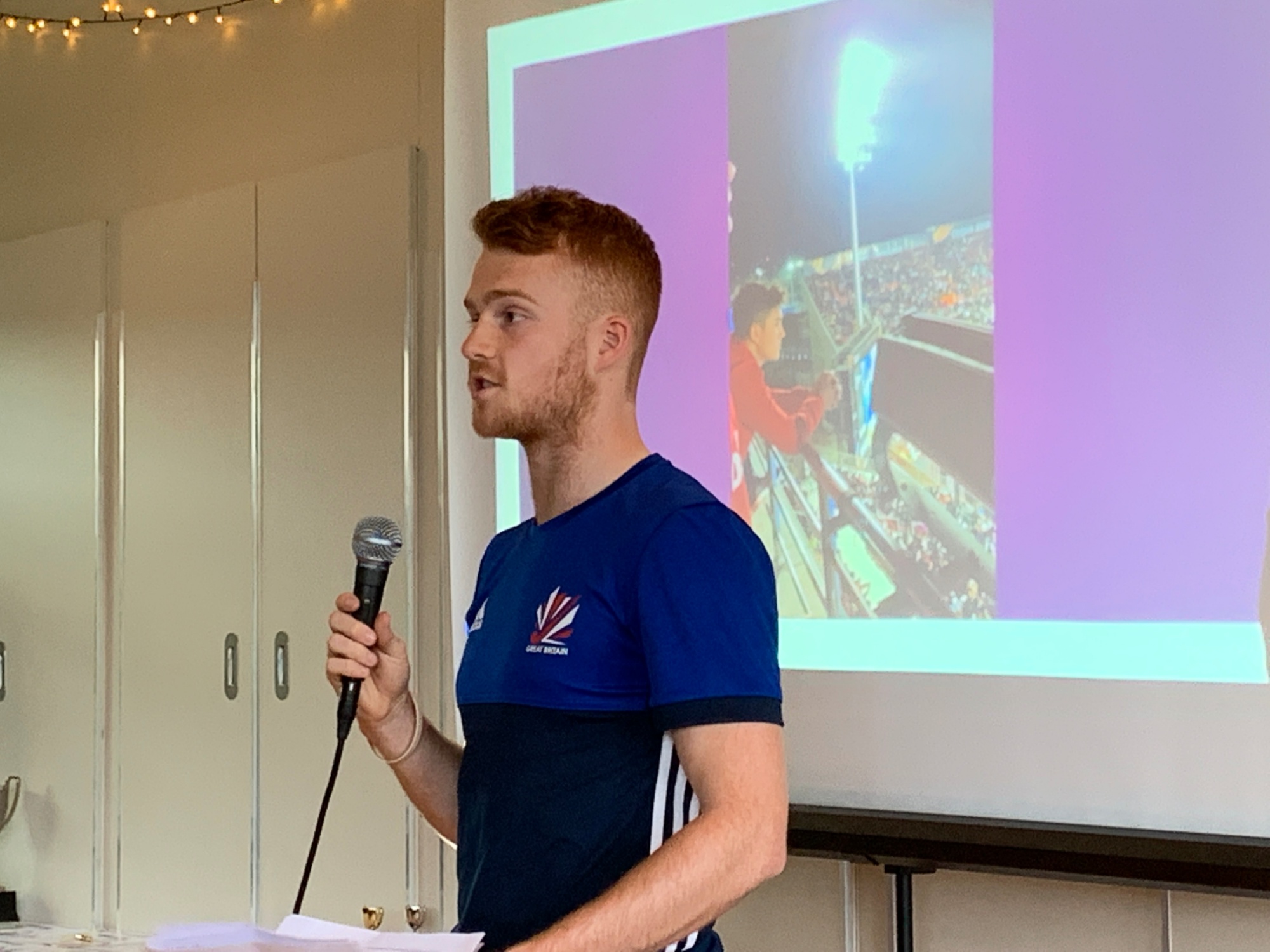 We were then extremely lucky to have Jack Waller GB and England Hockey player present his international hockey journey, his message was very clear to us all, resilience and an not be afraid to make mistakes is the key to success which resonated well with our audience. Jack was also extremely generous and gave away two signed GB playing shirts to two of our audience members.
Three very impressive students were shortlisted as Sports Personality of the Year and they had been interviewed prior to the evening, they answered a series of questions about their sporting background and the audience thoroughly enjoyed learning about Anya, Esme and Scarlett.
The PE department then very proudly delivered speeches and awarded prizes for a range of sports that we offer at Ricards Lodge. The audience was blown away by the sporting success of the PE department and it truly was a wonderful way to celebrate all things PE and school sports.
Charlotte and Millie delivered speeches about what sport means to them and they truly had the full attention of the audience with a huge round of applause demonstrating the admiration for all they had achieved. The audience was then treated to an outstanding duet from Year 13 students Simona (playing acoustic guitar and singing) and Costa dancing.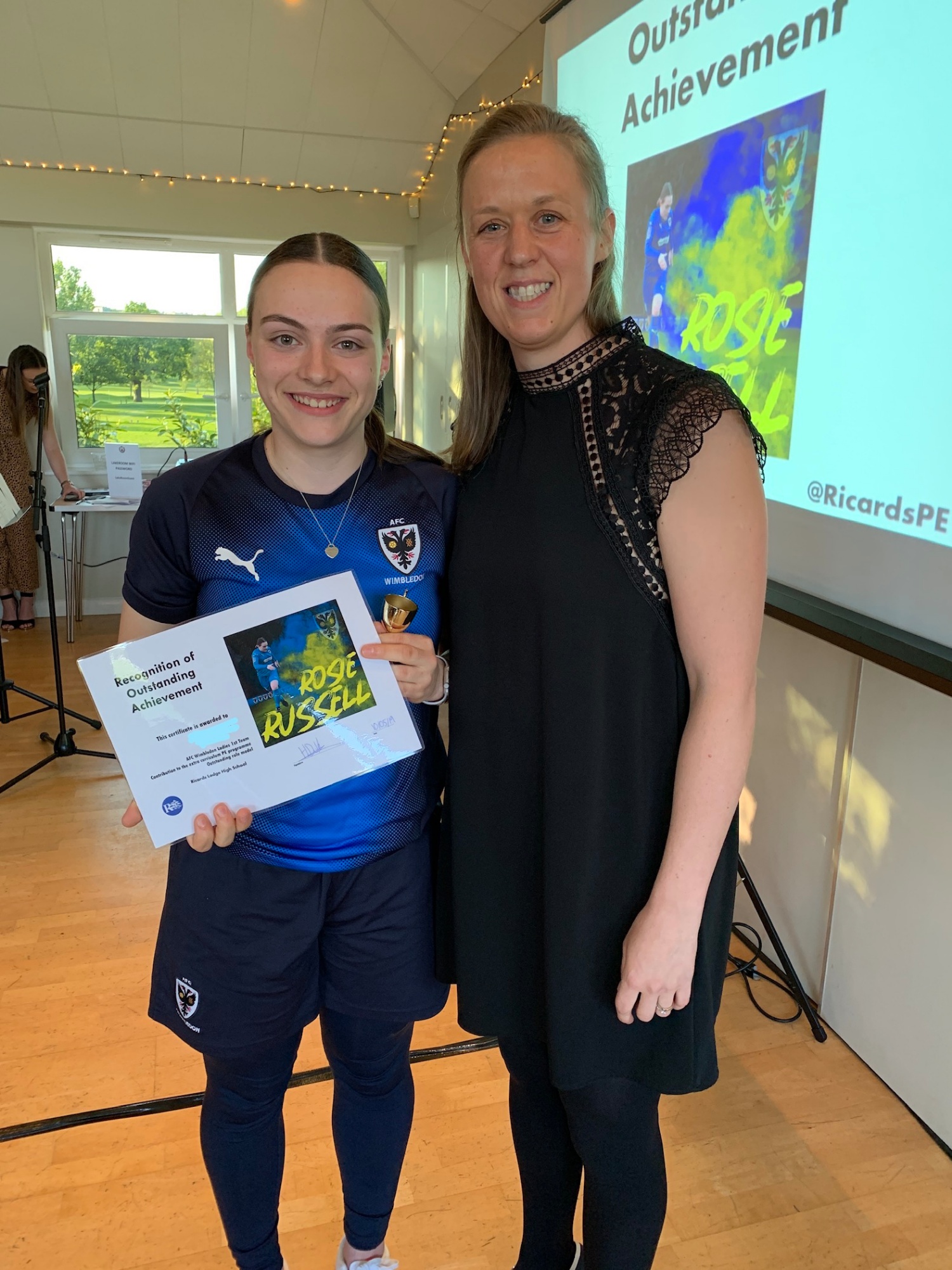 Our outstanding achievement award this year went to Rosie Russell who is the youngest player, playing for AFC Wimbledon ladies 1st Team the PE department was delighted to receive tickets to watch her play in the FA Cup against Bristol Rovers super league team back in February. Bristol Rovers are all professional athletes and Rosie really held her own and had a fantastic game. Rosie also received recognition for contribution to the extra curriculum programme and for being such an excellent role model to younger students.
We were delighted to have Bounce Gym Wimbledon supporting the event; they are a specialist injury prevention gym, who focuses on strength and conditioning, treating each client as a professional athlete. The PE department is keen to emphasise to students and parents the importance of training smart, getting strong and staying injury free.
The event culminated in a raffle which included some amazing prizes such as a signed England football shirt, AFC Wimbledon signed goodies, a tennis ball signed by Martina Navratilova as well as many more. Thank you so much to everyone who donated prizes and bought tickets; the Sports Council raised £95.
Thank you so much to everyone who attended; the room was buzzing all evening and it was so special to celebrate everything our students have achieved! Bring on another year of sporting success for Ricards Lodge High School PE department.
Miss Dukes
#purplereign.
More photos available in the gallery.