Celebrating Achievement - Afternoon Tea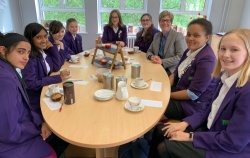 As a celebration of their outstanding achievement, on the 8th May, a group of students from Year 7 to Year 10 were invited to a very special event; Afternoon Tea with the Headteacher.
The students had already achieved over 200 achievement points and attained their purple or silver badge during the Spring term. The students discussed a wide variety of topics and their own key to success in school. They also enjoyed sharing and guessing interesting facts about one another.
It was an inspiring event and we very much look forward to hosting the next Afternoon Tea with our 2019 'Gold Badge' students.