Ricards Students run LGBTQ+ Workshop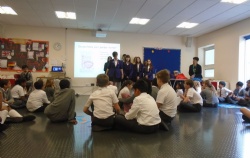 A group of Year 9 and Year 7 students planned and delivered an LGBTQ+ workshop at Garfield primary school on Tuesday 11th June.
The students are all part of our LGBTQ+ group here at Ricards Lodge. This is one of several workshops the group has run which include workshops at Priory, St John Fisher, Bishop Gilpin and Wimbledon Chase.
The aim of the workshops is to raise awareness of LGBTQ+ issues including how bullying can affect young people who identify as part of the LGBTQ+ community. The workshops cover topics such as the make-up of different family groups which may not have the traditional male/female parent pairings and exploring real life scenarios which could affect young people such as; 'You are walking through the park with a friend and you see two boys holding hands, your friend makes an unkind comment, what should you do?'.
The workshops are aimed at students in Year 6 as part of navigating what can be a difficult time for some students in their transition from primary to secondary school. Comment from one of the Year 9 students delivering the workshop; "I really enjoyed working with the children at Garfield primary school because it was interesting to see their viewpoints and I really liked the discussions we had." At the end of the workshop the Year 6 students wrote pledges about how they could be an LGBTQ+ ally. One of the Year 6 teachers Miss Peoples said "It was a fantastic experience for our Year 6's and we all really enjoyed it. I will be in touch again to arrange another one for our next year's Year 6's!"