MUN Conference at WHS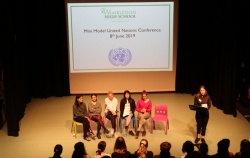 On Saturday 8th June a group of students from Year 9 and 10 attended Wimbledon High School's 2nd Model United Nations Conference.
Report by Yasmien and Lucy
A model UN conference imitates an actual UN conference as delegates are put into committees where they debate topics as if they were a real country before eventually reaching a conclusion and creating a law (or resolution) that reflected the group's views.
The conference started at 9 o'clock with a short opening speech by one of the chairs. Delegates then split off into the three committees (ECOSOC, SPECPOL and UNESCO) with each having two designated topics to discuss. We debated the first for an hour, then had a break and then debated the second. At the end of the conference, we gathered back in the auditorium where they handed out awards and gave a closing speech. It was quite a small conference, with fewer committees and only a few WHS students running it, but successful nonetheless.
In SPECPOL we discussed cyber-censorship and bioterrorism. While debating cyber-censorship the conference slowly turned into an argument between Israel and Germany, Israel playing devil's advocate. Despite this we managed to debate two resolutions on the matter and passed one, with a few amendments. For the second hour we discussed bioterrorism. The debate was slightly calmer and more agreeable, managing to pass both resolutions discussed. The second resolution passed in a matter of minutes, with no amendments in unanimous agreement.
In UNESCO the students discussed the cultural restoration of Mosul and how education could be a tool to prevent extremism. One resolution was passed for each topic, although not without amendments added by the delegates.
Lastly, in the ECOSOC committee they debated on the idea of genetic engineering and food security and the idea of Female Genital Mutilation. We had a fruitful debate but one thing in general that really sparked controversy was a specific resolution. The resolution put forward by The Netherlands stated that FGM should be criminalised. Many delegates were against this and therefore many amendments were made. An example of an amendment was that FGM should not be criminalised at it is widely practised in many cultures. This amendment was made by the USA. It was debated on in detail and finally passed.
The debates were really interesting because everyone had different ideas about what should be included in our law. It was interesting to see how different countries tried to find the difference between free speech and hate speech and which parts of it should be illegal. Overall, it was a really unique experience that taught me a lot about debating, research and playing a part. The most unusual part of the conference was interacting with the other delegates who would be your worst opposition in the debate room but offer you sweets during the break. It was great to see that everyone was able to take their roles so seriously, while still being able to make new friends and socialise.
Yumna, a student who partook in the conference, said;
"I learned many new things about discussing controversial topics" after taking part in a debate about FGM where the majority opinion made it difficult to introduce alternative ideas.
Hannah, who also took part in the conference, said;
"I learned how to consider everyone's opinions and respectfully contradict them in order to reach a fair conclusion. The conference has helped me gain confidence and improve my public speaking skills.
Overall the MUN conference was a successful, intimate event which was thoroughly enjoyable to all the students who participated.
By Yasmien and Lucy