Exam Success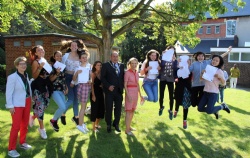 We are delighted with our provisional Key Stage Four results this year which are a testament to the hard work and dedication of the students and staff at Ricards Lodge High School.
It was a pleasure to share the good news this year with Councillor Stringer the Lead Member for Education at Merton Council along with the Deputy Mayor and Chair of Governors Mr Ed Foley and his consort Ms Annabel Foley.
Our results are up again with 76% of all our pupils gaining 4+ in Maths and English and 50% 5+ again in both subjects. Our attainment 8 score is currently at 54.57.
As ever there were some stellar individual results with so many pupils gaining those hard won 8s and 9s. We look forward to welcoming our newest recruits to RR6 in the new academic year.
Photos of results day are available in the Photo Gallery.