Year 9 Take on the Smart Building Challenge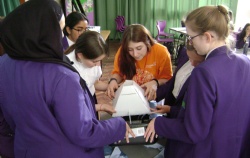 Fifty-four students in Year 9 took part in a challenging STEM event run by the Smallpeice Trust.
The students were tasked with building a watertight water-collection unit including building their very own filtration system.
They had to assemble an electronic water-detector and construct a circuit for an electric pump in order to detect and pump the collected water.
It was a fantastic opportunity for the students to work together on a team-based project relating to an engaging and inspiring real-world problem. The students were also exposed to potential STEM careers they could access in the future while developing key employability skills and confidence in their own abilities.
Dr Scragg - Science
Further photos from the event are available in the photo gallery.