Capability Brown Festival 2019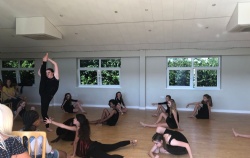 On Saturday 14th September, over 40 Ricards Lodge students from across all year groups took their positions at The Wimbledon Club ready to perform as part of the Capability Brown Festival 2019.
The performance showed the diverse range of talent we have in our student community, with dance styles from across the globe featuring in the line-up, such as Bharatanatyam. The dance department would like to thank the audience for their appreciation at this event!
"It was very fun and all our parents were very proud. The performances were amazing and we hope to take part next year!" (Zarqa, Ella and Tifani- Year 8)
An event organiser said:
"The students were impeccably behaved, friendly and performed beautifully. The audience were charmed by the confidence, energy and talent that they exhibited as they performed very different genres of dance. Well done to all of them!"
Catch our next performance at the Dance Showcase on 20th November: more information to follow.
Ms J. Barron,
Head of Dance