Exam Confidence Workshop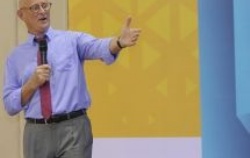 As part the Ricards Lodge & King's College School aspirations programme, on the 27th September a group of ten key stage 4 students attended Lance King's "Exam Confidence" workshop.
Lance looked at ways to increase motivation and create realistic achievable goals. He also looked at how to stay in the moment and focus only on what you can control. A key message was avoiding judgement and not to compare yourself with others but consider how much progress you have made. The workshop looked specifically at how to be successful in external examinations.
Success = capabilities + effort + resilience
Mrs Kirk, Deputy Head of Year 10
Students commented;
"I found the King's College trip very educational as it taught me a different exam and memory techniques. The memory technique that helped me the most was the story technique. This was because it enabled me to remember important key information in an easier way, rather than repeating the key information over and over again in my head."

Holly, Year 10
"The King's trip on Friday was extremely refreshing to hear. The lecture made me realise areas where I could improve my studying techniques. I'll definitely reflect on what we were told and put it to use!"

Venuha, Year 10
"I have found the session very interesting and useful because I realised where I can improve when revising and know what I need to do to do well in studies as well as having fun! I have learnt to have confidence and belief in myself."

Meera, Year 10