Year 7 Football, Match Report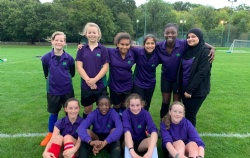 On Friday the 11th of October 2019 Ricards Lodge High School played their first Town Cup league football game against Surbiton High School.
Match report Written by Taijha 7LGI;
Ricards started off controlling the game extremely well which lead to an early goal scored by the striker Lucia. However, soon after that Surbiton high came back building up to an excellent finish making the game 1-1.
It was half-time when Ricards Lodge made some changes to the game and discussed their plans to get back a goal and to get to 2-1. Half-time was soon over and 5 minutes later Ricards Lodge came back to be winning after clearance by defender Lacey and a great set up by Ricards Lodge midfielder Alix. Lucia scored again from a through ball finishing in the top left corner. But a few minutes later Surbiton High came back 2-2.
Ricards Lodge goalkeeper Lamyah made a great save in the last minute of the game and Ricards Lodge almost won in return, however they missed the target. The game ended with popcorn and squares provided by our thoughtful hosts Surbiton High.
Well done Ricards Lodge!