Jack Petchey Awards Evening 2019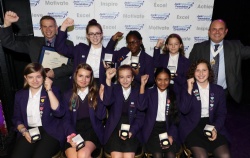 On the 15th October 2019, nine students representing every year group attended the Jack Petchey Achievement Awards Event at the Clapham Grand. The awards are designed to celebrate the fantastic achievements of young people as far and as wide as possible.
Over the academic year 2018-19, Heads of Year and the Junior Leadership shortlisted and then selected our 10 award winners. Details on their achievements are shown below:
Maddie T & Simeiya D
Maddie & Simeiya went above and beyond the call of duty for Year 7 Charity Week. Maddie with
Silmeiya sold all of the red noses and spent many break and lunchtimes counting (and
re-counting) the money. Both girls did it all with such grace and compassion and are
outstanding ambassadors not only for Year 7 but for the whole school.
Lacy B
Lacy's attitude to learning in Drama is outstanding. Lacy supported another student who
doesn't speak English. She used gestures and took her time when explaining things, which
had such a positive impact on this one particular student's learning. Lacy has also
achieved one of the highest Drama grades in her year group.
Koko I
Koko is kind and helpful to students and staff alike.
Koko was run over on the way home from school. However, she showed amazing
resilience and was back in school shortly after. She then with a group of friends wrote
and presented an assembly about Road Safety to the whole of Year 8.
Elizabeth W
Elizabeth played the bassoon in "Beauty and the Beast" and is a totally committed
member of the orchestra. Completely reliable and always enthusiastic! Elizabeth is also
in the MMF prestige concert band and performed at the Royal Albert Hall last week.
She has also performed at Wimbledon Tennis. She is a member of the Chamber Choir
and is totally committed to her music as a team player.
Anya W
Anya has made an extensive contribution to the school community and beyond. She is a
member of the POP team, school council, and an event organiser. She also leads and
coaches many sports clubs, Outside of school Anya volunteers at Wimbledon Police
cadets and has also volunteered at the London Marathon.
Cristina L
Cristina is a kind and caring your woman. She has done lots to support the local
Venezuelan community in London. This includes marching for awareness towards the
poverty crisis which is currently occurring. She is very passionate about this and other
campaigns which raise awareness and support others.
Flavia F
Flavia is extremely dedicated to the Sporting community both inside and outside school.
She was particularly committed in her contribution to fundraising earlier this year.
Flavia is the deputy sports council rep, leading and does lots of coaching at sports
clubs. She is a member of the POP team and is an amazing advocate for generally
upholding all of the school values all of the time.
Photos of the evening can be found in our photo gallery.