Southfields Academy vs Ricards Lodge High School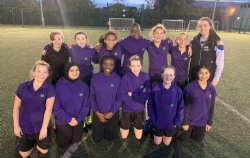 Ricards Lodge High School's Year 7 Football team arrived at Southfields Academy on a sunny Wednesday afternoon (6th November) hoping to build upon their good start to the season.
Match report by Keira, Year 7;
Ricards kicked off the game and the first five minutes were even with both teams having lots of chances at goal. Then Ricards started to get on top and it was only a matter of time before they went ahead. Lucia raced clear and buried the ball into the bottom corner. 1-0 to Ricards.
Soon after Taijha got the second with a good solid run after a clean through pass from Keira. Half time arrived and it was 2-0. Miss Gillespie was impressed with our teamwork skills and the encouragement we showed each other in the first half. This motivated us to do the same in the second half.
The second half was more of the same with Ricards dominating from defence and pushing forward with control. Soon Sophie got a third and then shortly after she got the fourth goal. These two goals built up from our strong defence and accurate passing from midfield.
Ricards continued to push for another goal and Keira made a great run through from midfield and scored the fifth goal with a right-foot strike into the top corner. 5-0 to Ricards.
Soon after the referee blew the final whistle and Ricards celebrated a great win shaking hands to all players from Southfields. Well done to all the team especially all our defending players working hard to make sure no goals were conceded.
Southfields Academy 0 - Ricards Lodge High School 5 ​​​