Students host thought-provoking Model United Nations Conference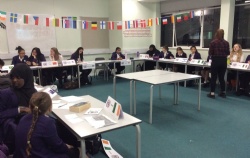 It was an absolute pleasure hosting and organising Ricards Lodge High School's 5th Model United Nations Conference, the theme of which was 'actions, not words.'
The event is lead by our student chairs who decide on the topics to be discussed in each committee and write the topic statements, they then work with the delegates preparing them for the formal debate in committees and support them in writing their policy statements and the final resolutions.
The delegates also worked hard in the weeks leading up to the conference preparing speeches and researching the opinions of their countries. The real stars though are the student event managers who have worked tirelessly planning the catering, marketing, branding and coordination of the even to ensure it runs smoothly.
We would also like to thank our speakers; Gemma Freedman, International Officer at UNISON and Sarah Sawyerr, educationalist and campaigner both gave inspiring speeches on what the students can do to campaign for change and the importance of debate as a tool for change.
Finally, we were delighted to be joined by students from Rutlish School, St Michaels School, Raynes Park High School, and Burntwood School. We are already looking forward to planning another conference next year.
Mrs Wilford
This weekend I attended the annual Model United Nations conference hosted by Ricards Lodge High School. It was the first one I had ever been to and I found the process very enjoyable and helped microcosm some of the major world issues into a very understandable, fun and engaging format.

I represented the country Saudi Arabia in the security committee, which had a topic of 'Maintaining security in the polar ice caps'. In order to prepare for the conference, I had to compose a short policy statement which focused on the topic from your country's point of view. We were also advised to equip ourselves with some short bullet points relevant to our country which may come in handy during the debate.

I enjoyed researching about my country as it helped develop skills for many subjects; geography, history and English came in very useful here. The chairs of our committee were extremely helpful and supportive during this process, and helped create a stable, friendly environment during the actual conference.

I personally found the icebreakers at the start of the first day a great way to familiarise yourself with the new people from other schools you would be spending the weekend debating with. We had schools such as Rutlish School, Raynes Park High School, St Michaels and Burntwood School accompany Ricards which was a great way to make new friends is a formal, yet fun environment.

My personal highlight was the debate as it could get rather tense at times and was extremely exciting and managed well by the chairs of the committee. We also had a variety of guest speakers which were very interesting to listen to and all had a huge impact on the overall subject of our conference: Moving Mountains: Actions not Words.

Overall, I thoroughly enjoyed the conference and it has strengthened my knowledge in current affairs and has interested me into researching some of the issues brought up further. I would highly encourage attending as it is an excellent experience and has given me a broad range of knowledge surrounding many global issues and I would strongly recommend it to everyone.

Georgia F, Year 10
This year, Ricards Lodge hosted their annual Model United Nations (MUN) conference. This year's conference revolved around climate change and what our world leaders can do to help prevent it. It was a great success and, I'm sure, was enjoyed by everyone who attended.

The Friday evening was kicked off with an introduction to the conference from Ms Wilford, who did an incredible job of running the event and clearly put in tireless work, along with Ms Goddard, Ms Taylor and Ms Di Passio, to ensure we all had a wonderful and productive debates, which we most certainly did. We were then introduced to our committees, which could be Security; Economic; Human Rights; Political or Health, Social and Environmental. Each committee had something to debate surrounding the issue of climate change. On the Friday, we spent an hour or so getting to know the other delegates with various ice breakers and fun games, which were great in not only meeting people from schools such as Raynes Park, Rutlish School, Burntwood School and St Michaels, but also easing tension and making everyone a little less nervous and more confident in their debating skills. After that, we were treated to a delicious meal of vegetarian chilli or carrot curry, and apple crumble for dessert.

The event organisers decided to make all the food vegetarian in order to reduce our carbon emissions and recycle all plastic used during the event, which I though was a great thing to do and really kept with the overall theme. The evening ended with Gemma Freedman from UNISON giving us an utterly engaging and insightful speech talking about what her roll is and how she became an International Officer at UNISON. The evening ended soon after with everyone waiting in gleeful anticipation of the next day.

On Saturday morning, we all arrived happily and excited for the day of debate and discussion ahead. The day began with a General Assembly, in which many delegates gave speeches on behalf of their countries. It was rather entertaining to hear all the countries' opinions on the matter of climate change, especially the USA, albeit controversial. We then broke off into our committees and began our lively debates. I, and I believe I can say this for most delegates, certainly experienced a rather heated yet fun debate, with some delegates angered and others a little confused, but we all thoroughly enjoyed debating the topics we had researched and voicing our own country's opinion.

With every MUN conference you partake in, the more your research, debating and confidence skills are enhanced, and you will enjoy it more. We then had lunch, which was a selection of vegetarian sandwiches organised by the ever-helpful and thorough event planners. After lunch, we resumed debate in our committees, and began to write and approve our resolutions.

After a couple of hours, we gathered in the hall for the presentation of awards for delegates who showed particular flair for researching, passionate debating and quick-witted counter arguments. After the chairs, who kept all the debates in order, reported to the General Assembly the resolutions that their committees had come up with. Ms Sawyerr met a warm welcome back to Ricards as she made an inspiring and thought-provoking speech about how far the MUN conference had come and what we as individuals can do to make the world a better place.

Overall, it was an incredible thing to be a part of and everyone involved really benefited from it as we learnt so much. I would definitely recommend this conferenced for anyone looking to expand their knowledge on the world's issues and the UN, enhance their debating skills and increase their confidence in public speaking. It was a great event and I'm already looking forward to next year's conference!

Ruby, Year 9