Match Report - Year 8 Football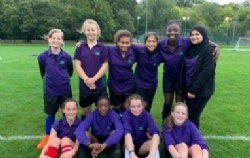 On the 13th November Ricards Lodge High School's Year 8 Football team travelled to play Kingston Grammar School. The students were fantastic throughout and are continuing to model the school values brilliantly whatever the result.
Please enjoy our student match report;
Ricards Lodge kicked off and immediately were on the offensive, however, against the run of play one of the Kingston girls broke through our wall of defence and managed to earn a corner. After several wasted corners, and many great saves from Lamyah, Kingston poached their first goal.
As the game progressed the Ricards' defenders worked out Kingston's tactics for corners, following Lyra's great defending. A few minutes after Kingston were up by another goal after a solid shot in the bottom corner. Before the half time whistle was blown Kingston managed to sneak in two more goals making it 4-0.
During half time Ricards regrouped and discussed their strategy for the next half. Ricards then proceeded to walk back onto the pitch with our heads held high.
Ricards put a lot more pressure on Kingston in the second half. Kiera made some great runs down the left wing and Sophie took some close shots. Lamyah once again pulled out some excellent saves however Kingston managed to slip in a goal from a short ball. The defenders still pushed on and Lacy was part of several brilliant clearances of the ball up towards Sophie, Alix, Connie, Taijha and Amelie.
The game finished with a score of 5 - 0 to Kingston Grammar School. We shook hands and then came back to congratulate the team. We had tried our best and that is all that mattered.
Woman of the match: Lamyah, for making some outstanding saves
Amelie C, Year 8