I'm a Poet and I didn't know it!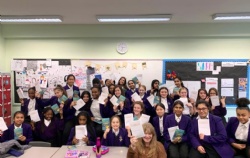 Creative English class 8E really engaged with a recent study of poetry and painting. They got so involved and enthusiastic that they produced their own Poetry Anthology!
The anthology themes ranged from storms to colours depending on the painting they chose to write their poem about. They were so proud of their poems and Ms Hill-Goddard was so proud of them too, that they were soon collated and each member of the class was able to take a copy home with them before Christmas!
It was fantastic to see how hard 8E worked, some of them writing four or five poems instead of the one required. Tilly said, 'It was fun and very cool. I was happy when I took it home to show my Grandma' and Daisy said, 'It was an amazing experience'.
It just shows how creative and talented 8E are, Well done!