Merton Schools Indoor Athletics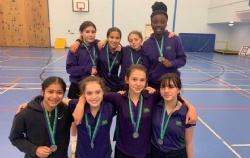 On Thursday 16th January Ricards Lodge High School took 8 students to Ursuline High School for the Year 8 Borough Indoor Athletics Competition. The determined team showed high levels of skill and resilience. They were rewarded with silver medals.
Student Report:
The minute the school bell rang to signal the end of the day, we all sprinted to the minibus to grab the best seats. When we'd finally arrived at Ursuline High School, we all strode into the sports hall proudly wearing our purple and green hoodies with pride. We lay down our belongings on a bench and began to warm up; first it was high knees then toe flicks followed by cross overs, strides, lunges and then a long stretch. The man in charge of Merton athletics announced that the competition was soon to commence so we crossed our fingers and shared support and motivation.
We began with the field events: shot put, triple jump, vertical jump and standing long jump. There were close wins, losses and draws but Ricards triumphed in every event and left the floor elated with our performances. Eve and Felicity wiped the floor with the standing long jump and triple jump. Hiba and Nathalie reached for the stars in vertical jump. Yasmin and Lamyah threw brutally in shot put whilst Sophie and Hiba raced to the top in speed bounce. Overall, Ricards thrived throughout the course of the field events but then came the races…
After a rapid recovery from the fatiguing field events, everyone was thrilled and ready to go on with the races. First it was our talented team of sprinters; Felicity, Eve, Nathalie and Hiba. They each did two laps before passing over the metallic baton scoring a close second. Eve and Felicity wowed the crowd again with a stunning two lap individual performance pulling Ricards further up the ranks.
Then it was time for Yasmin and Sophie to take the reins with an eight lap relay coming in second once again! Maisie was up with a competitive four lap race proudly walking away with a bronze. Sophie was up again with a six lap individual race which she earnt a satisfying gold in. The races went on and so did the delight until at last the clock struck 5:30 and it was time to announce the champions.
Scores were clarified then the girl's performances were broadcasted. The hosts, Ursuline won but Ricards were pleased to earn second place and were victorious with our silver medals clinking around our necks. It was inevitable. We took proud photos and grinned in-between mouthfuls of well earnt pre-packed treats. We thanked our honourable hosts and esteemed teacher (Miss Gillespie) for giving us such a wonderful experience. As we filed out the hall stealing content glances at one and another, we all thought the same thing… Next year Ricards will walk away with gold!
Yasmin 8R/8KHO
Year 8 Team: Eve, Sophie, Felicity, Lamyah, Yasmin, Hiba, Nathalie K & Maisie