Inspirational teaching recognised at Ricards Lodge High School through SSAT Lead Practitioner Accreditation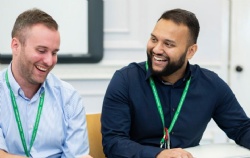 Teachers from Ricards Lodge High School have been recognised as inspirational leaders of learning by successfully achieving Lead Practitioner Accreditation from SSAT, the Schools, Students and Teachers network, in the Autumn 2019 accreditation gateway.
SSAT Lead Practitioner Accreditation celebrates great teachers who lead their colleagues to develop themselves. The award recognises their skills, experience and qualities, and celebrates how they embed and extend teaching and learning in their school, positively impacting on the lives of students.
Miss Marshall, Ms Albert, Mrs Wilford and Mr Uddin planned and delivered a series of workshops on;
Challenging the myths that exist in the education world
SEND and low attaining students; an investigative approach to improving teaching and learning in your classroom
Careers in the curriculum; What Works?
Every Girl Matters; Successful Pastoral Strategies
Sue Williamson, Chief Executive of SSAT, said:

"For a successful school system, you need exceptional teachers and that is why SSAT introduced the Lead Practitioner accreditation. The programme challenges the thinking and practice of Lead Practitioners and by achieving accreditation, they have demonstrated the impact of their work on students and staff. Well done to our latest Lead Practitioners."