No Challenge Too High For Students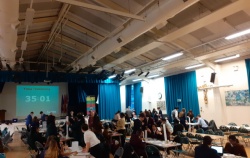 Last month Ricards Lodge and RR6 teams competed against a wide range of other schools at the 2020 SATRO Problem Solving Challenge hosted at St. Philomena's School.
Students were tasked with building a structure to release a packet of sweets over 10 seconds. Points were awarded for how high the sweets were released from and how close to the 10-second mark their release lasted. While none of our teams qualified for the next round, fun was had by all!
Dr Scragg
Teams:
Key Stage 3 (Edie, Lila, Tilly, Megan, Lalima and Eleanor)
Key Stage 4 (Georgia, Lucy, Venuha, Yasmien, Celia and Kayleigh)
Key Stage 5 (Jathu, Nantheesan, Aryan, Jahan, Amelie and Caitlin)
More photos available in the Photo Gallery.