Centre Court picture gallery shows support for the NHS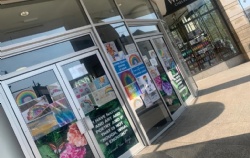 Centre Court Shopping Centre, in Wimbledon, has partnered with Ricards Lodge High School to show their support for the National Health Service.
Pictures and written messages of support can be seen across the main entrance doors. The partnership started with Ricards Lodge making goodie bags donated by Centre court to distribute to nurses at local hospitals.
Further photos are available in the gallery.