Community Champion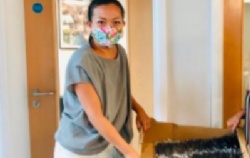 Earlier this term, Ricards Lodge High School was very thankful to receive the donation of hand made masks for our students in receipt of free school meals.
Early on in the pandemic, Syebvonne Nguyen realised there would be a shortage of masks and started sewing them for medical and care home staff.
Syebvonne harnessed a group of volunteers who have been exceptionally busy and provided more than 300 masks to the school. Syebvonne has recently been nominated as a Community Champion in the Wimbledon Time and Leisure magazine.
Students have really appreciated them and have commented on their softness, lovely neutral colours and that they are very sustainable.
Visitors and staff are welcome to purchase additional masks from the main office and there is a suggested £3 donation. The money raised is going towards buying material so that Syebvonne and her team can make more masks for other schools and healthcare settings.
H Wilford