Wimbledon Food Bank Donation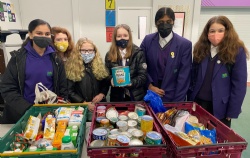 Last week the History Department organised a collection for Wimbledon Food Bank. The food bank is part of The Trussell Trust and was set up in 2011 by community groups working to eliminate hunger in our local area.
There are more than 14 million people living in poverty in the UK including 4.5 million children. The Trussell Trust provided 1,900,122 three day emergency food supplies to UK people in crisis in 2019-20. Of these, 720,504 went to children. Unfortunately, more and more people are forced to rely on foodbanks and there has been an 18% increase in use in the past year alone.
Our students donated 11 crates of food in just one day last Friday showing how passionate and caring our student body is. The foodbank were delighted by our donation, demonstrating how our school can make such a meaningful contribution to the local community.
Well done Ricards.