Accelerated Reader News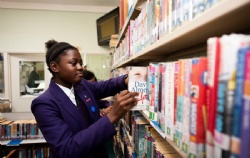 In 2020, despite the immense challenges the pandemic posed for our youngest readers, Ricards Lodge High School was recorded as the number one school for participation in the 'MyOn' Renaissance Learning online reading programme.
From across England's participating secondary schools, Ricards Lodge students read more online books than any other. Heart warmingly, our students continued to access the online library with ferocity even over their 'summer', where traditionally we observe a decline in reading.
Ricards Lodge KS3 students read a staggering 12,567 books from September to July, achieving on average 86% accuracy in their reading comprehension quizzes. This is an increase of 6% on previous academic years. Increases in these categories are particularly important because they demonstrate not only that our students are reading more books, but that they are reading with more accuracy.
The English department is incredibly proud of the achievements of all our KS3 students!