Anti-Bullying Week - Odd Socks Day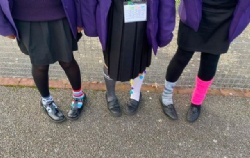 On Wednesday 18th November our POP (Peer Outreach Programme, anti-bullying ambassadors) group held an Odd sock day in support of Anti-Bullying Week. All staff and students were encouraged to celebrate our differences by wearing odd socks to school.
Our year 11 POP leads produced a virtual whole school assembly to advertise the event to all. The POP team were genuinely delighted by the number of students and staff that joined in.
We are so proud to have organised such a great event that brought our community closer together, it was the fun and excitement that we all needed at this challenging time". It demonstrated true Ricards' spirit and the POP team are looking forward to planning some events in the new year to promote equality and diversity in our school
Lucy, Head of POP, Year 11
Students who are in need of any support from POP should look out for the students wearing POP badges on their blazers. They can also complete the online POP referral form in Google Classroom.