Digital Leaders run successful GetIT Bootcamp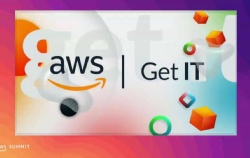 Since October our dedicated team of student digital leaders have been mentoring a group of younger students as they prepare an entry for the Amazon Web Services (AWS) GetIT competition.
AWS GetIT is an initiative designed by AWS to encourage girls aged 12-13 to consider a career in tech, challenging long-standing gender stereotypes.
Last month, ten student digital leaders planned and delivered a half-day virtual bootcamp using cloud tools such as Google Meet and Google Jamboard.
The bootcamp was structured in a way to inspire and capture the thoughts and ideas of the mini digital leader's (Mini Digi's) teams. The mentors showed outstanding digital skills and were able to set a productive and fun tone for the session.
"I loved running the bootcamp because the mini digis are very intelligent and resourceful and it so amazing to hear their ideas and opinions"

Gabriella, Digital Leader
The Mini Digi's are made up of two teams of four Year 8's competing with one another to develop an app with a local or social impact.
The Coding Elites are working on an app-based solution that will help students to select the right book in the school library and provide them with suggestions and reminders. The Coding Elites are Elizabeth, Abi, Shivasri, and Hawa.
"I enjoyed the bootcamp because it let me into a new chapter into computer science and has led me to a decision to maybe have a career in designing and making useful apps for our society "

Hawa, Coding Elites
The Technos team are developing a solution to mental health challenges faced by schoolchildren. The Technos team is comprised of Alyssa, Murwa, Tara and Amani.
"I enjoyed the boot camp because i got to express new ideas to my peers, I learned about creating an app and took time and dedication into researching about it. I am now more confident at designing things and i can help other people in doing what im best at! "

Maro, Technos
It was a pleasure to observe and watch such highly talented students collaborate and switch seamlessly between so many digital tools, all while trying to solve a chosen social or educational problem. The future is truly bright in their very capable hands.
Mr Green, Assistant Headteacher
Find out more at AWS GetIT Competition