Hygiene Bank Collection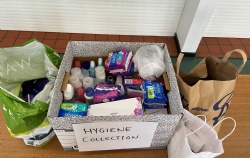 As part of National Women's History Month, the History Department organised a collection of personal care products for the Hygiene Bank who collect and distribute products to people who need them most.
Hygiene poverty is not being able to afford many of the everyday hygiene and personal grooming products most of us take for granted. It can be shaming, humiliating and excluding and can result in social isolation.
The amount of products we collected in just one day from students was phenomenal. I struggled to fit it all in the boot of my car and the charity were delighted.
Well done Ricards! Once again our student body has shown how caring and selfless it can be towards those who need a helping hand.
Miss Stangroom