Students inspired to consider careers in STEM after Cassini Mission space talk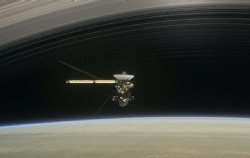 On Friday 18th May, a lead scientist from the Cassini Space Research Mission delivered an inspiring presentation to our Year 10 aspiration programme students.
The Cassini-Huygens space-research mission, commonly called Cassini, involved a collaboration among NASA, the European Space Agency, and the Italian Space Agency to send a space probe to study the planet Saturn and its system, including its rings and natural satellites.
After an informative and engaging presentation, students were able to quiz the scientist on a range of matters including the length of the mission and how it was possible to fly the craft between Saturn and it's rings using technology built before the students were even born.
Thank you to King's College School for organising the event.
More information on the Cassini Space Mission can be accessed here.