London inspires A-Level Photographers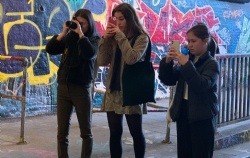 On the 19th November, Year 12 and 13 Photography students visited The Photographers' Gallery near Oxford Street in central London.
The Photographers' Gallery is the UK's foremost centre for the presentation and exploration of photography in all its forms and is home to an international community of photographers.
Our Year 12 and 13 Photography students then went on to take shots themselves around London - starting in nearby Carnaby Street. They finished their trip with a great walk down Leak Street Graffiti Tunnel.
See some of the images they took in our Gallery.