Postcode Cookbook Competition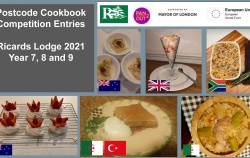 The Design and Technology Department is pleased to announce that 24 students from 7, 8 & 9 have made it through to the second round of the Postcode Cookbook cooking completion run by the Pan Out 2 Careers charity.
The task required them to cook a dish that represented their home town or their cultural background. The judges were really impressed with the high standard of cooking skills and the stories behind the dishes.
The next stage in the competition will involve advice from professional chefs and help develop and recreate the dishes in preparation for the creation of a virtual cookbook next year.