Year 8 Maths Enrichment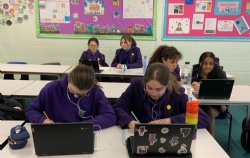 As part of our partnership with Wimbledon High School (WHS), Year 8 have been involved in a programme of Maths Enrichment. This term we have moved our programme online, with our students connecting with students at WHS virtually every week.
Ten Year 8 students work in pairs, with the help of a WHS buddy to solve challenging mathematics problems. These problems are all designed to develop the students' problem-solving and reasoning skills through applying mathematics in a real-life context. At the end of each session, the students feedback on their solutions and discuss different methods to reaching an answer. Our students have really enjoyed these sessions, and it has been great to keep the partnership going virtually, with plans to return in person in the New Year.