Year 8 Football Match Report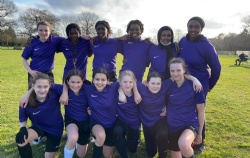 On the 9th March, Ricards Lodge Year 8 football teams visited Cobham International School for a friendly match.
Below is a match report from Yasmin, Year 8.
On Wednesday the 9th of March, our team played a friendly game against ACS Cobham International School, and we won 6 - 0!!
Our team played amazingly well and worked well together, performing accurate and efficient passes to work the ball up the pitch and provide many scoring opportunities. Our goal-scorers, Natasha and Ruby, scoring 6 goals in total, brought heaps of skill to the team, and we are very proud of them for getting the ball in the back of the net.
Our defensive unit, which included Zoë, Vanessa, Isla, Ella, and Saida, worked hard to keep in control of high-pressure situations, and kept us a clean sheet. The midfielders, Yasmine, Leah, Nadine and Umu, were trying their hardest to get back and help in defence, whilst also assisting the attack.
Samira, our goalie, was brilliant at keeping her cool in situations where she was being tested up close. She got her hand to a shot that would have gone in the goal, and her distribution was superb and set us up for quick counter-attacks.
In the second half, we had had a break, we just came back stronger, and we were ready to win tackles, run fast, and score some more goals! We didn't stop once we got tired and kept on going to help the team.
Everyone played to the best of their ability and Miss Gillespie helped us so much from the sidelines, giving us great support and attention, during half-time and before the match.
We are really proud of the team and overall grateful for this experience!
- Yasmin, Year 8
Our team: Leah, Yasmine, Isla, Ella, Natasha, Saida, Vanessa, Ruby, Nadine, Umu, Zoë and Samira.