Open Evening 2017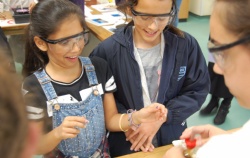 We were delighted to see so many enthusiastic students and parents at our Open Evening on Tuesday. The evening comprised of student-led tours and a talk by the Headteacher, Mrs Jerrard. Our current students were incredible tour guides showing off their school with pride.
Families were informed and entertained by a range of activities; a live band performing in the Music department, magic tricks featuring fireballs and disappearing liquids in Science and some delicious Chelsea buns from the Design and Technology department.
Here are what some of the parents had to say:
"My daughter will leave this school tonight full of inspiration and in no doubt that Ricards is the school for her. Students and staff were incredibly helpful and passionate about their school. Just wonderful! Thank you".
"A wonderful welcome. Other schools will have to work really hard to change her mind."
We would like to thank all the families who attended and made the event such a success. We would also like to thank our students for giving up their time to talk about their school so passionately.
If you were unable to make it to our Open Evening or would like to visit again, we also have Open Mornings on both Tuesday 26th September & Wednesday 27th September. The mornings will begin with a talk starting at 9:15am.