Jack Petchey's "Speak Out" Challenge Regional Finals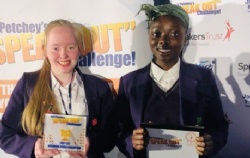 Nathalie and Sophia have gone from being carefully selected by their English teachers to take part in the Jack Petchey's "Speak Out" Challenge Workshop, to competing in an assembly final and now a regional final!
On Thursday 24th March at the regional final, Nathalie performed her speech on Black Hair, Identity and Culture and Sophia spoke about Neurodiversity: Awareness and Pride.
The performances from all speakers at the event were outstanding; topics ranged from the 'state' of the education system to simply one's love of cats. The host school; St Mark's, put on a wonderful evening with additional displays of talents from their own students during the interludes. And of course, Speakers Trust did an incredible job coaching our students once again in a workshop held before the evening event.
What's more, the competition doesn't end here! Sophia went on to WIN the regional final and will now be taking part in the GRAND FINAL, held in Covent Garden in June 2022!