Diversity Week at RLHS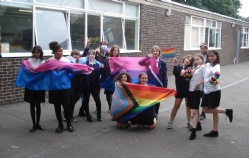 Our school community enjoyed a week full of events to celebrate Diversity Week inspired by the 'Just Like Us' charity.
Students had tutor time activities as well as lunchtime workshops all week with a different focus each day culminating in our Great Get Together picnic in the field in memory of the MP Jo Cox.
We began the week understanding the trauma that many refugees face. On Wednesday we celebrated Windrush Day by learning about the new statue in Waterloo Station and had fun trying out limbo dancing. Thursday was Rainbow Day and students learnt the history of the Progress Pride flag and took part in arts and crafts activities.
Our student Cultural Ambassadors informed the school community of the many changes that have happened or are being planned in school ranging from displays on Black British authors, diverse stories in English about Princesses, learning about African kingdoms and our Black History mural.
The whole week enabled our students to explore protected characteristics and the Equality Act 2010 and most importantly celebrate the contributions that everyone makes to our rich and diverse community.