Wimbledon BookFest 2022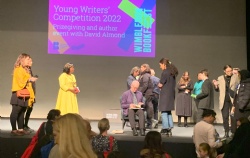 The return of BookFest! After a temporary pause on BookFest visits, September saw the return of Ricards Lodge students making their way to Wimbledon Common and New Wimbledon Theatre to experience all that BookFest has to offer.
Over the past two weeks, over 60 year 7s and 8s have listened to talks and attended writing workshops from writers such as Patience Agbabi and Manjeet Mann, also walking away from the events with a fresh copy of a novel in hand!
After an initial workshop help at Ricards Lodge last summer, our year 9s visited the New Wimbledon Theatre to see how Sita Brahmachari had bought their ideas to life in the play adaptation of her novel 'Artichoke Hearts'.
As always, these events are the highlight of our KS3 extra-curricular calendar, giving our students access all areas to the minds and creativity of both established and upcoming authors.
Last Friday 30th September also saw an extra momentous event for our ex year 11 pupil, Mia (Pictured), whose short story 'The Little Space Between' was voted as a winning entry from the Wimbledon BookFest Young Writers' Competition launched in March 2022. To read her incredibly moving and beautifully crafted entry, alongside other commended entries from Ricards Lodge, please check out the online anthology.